Umfrage - Survey
Soul Injury®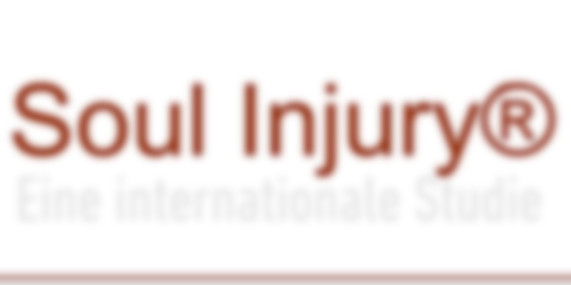 5 Minuten für 11 Fragen


Um was geht's?

Schwierige Lebensereignisse wie zum Beispiel Mobbing, mentale und körperliche Gewalt, Tod eines lieben Menschen, Jobverlust, Scheidung, sexuelle Belästigungen, Umweltkatastrophen, Terror etc. können uns belasten und eine Seelenverletzung Soul Injury hervorrufen.

Was will die Umfrage erreichen?
ob und in welcher Stärke sich Menschen von den Symptomen betroffen fühlen

inwiefern sich die Symptom-Wahrnehmung und Bewertung geographisch unterscheiden



5 Minutes for 11 Questions

What is the purpose of the Survey?

Difficult life events such as bullying, mental and physical violence, the death of a loved one, job loss, divorce, sexual abuse, environmental disasters, terror etc. can burden us and may cause a Soul Injury.

What is the survey about?
if and to what intensity are people affected by the symptoms




how the symptom scores differ demographically



Herzlichen Dank für deine Zeit und Unterstützung!
Thank you for your time and support!
Deine Daten sind anonym, werden ausschliesslich für den Zweck dieser Umfrage benötigt und nicht an Dritte weitergeleitet.

Your data is anonymous, is only needed for the purpose of this survey and will not be forwarded to any third parties.
Ist diese Umfrage anonym?
- Ja, denn für diese Umfrage brauchen wir weder Name noch Adresse.
Werden alle meine Daten gelöscht?
- Ja, sie werden allesamt nach der Auswertung gelöscht.
Darf ich an der Umfrage erneut teilnehmen, wenn sich eine Situation zwischenzeitlich bei mir verändert hat?
- Ja, bis zum Abschluss der Umfrage ist das möglich.
Kann ich mehr über dieses Thema erfahren?
- Ja, es gibt eine Webseite die sich mit dem Thema befasst.

Siehe auch: www.r-f-m.ch
Hast du sonst noch Fragen?
Dann wende Dich an: info@r-f-m.ch
Is this survey anonymous?
- Yes, the survey does not need any name or address from the praticipates.
Will all my data be deleted?
- Yes, they will all be deleted after the evaluation.
Can I join the survey again if a situation has changed in the meantime?

-
Yes, until the survey is completed end of 2019.
Can I learn more about this topic?
- Yes, there is a webseite you can learn more about it.
You may want to visit:
www.r-f-m.ch
Do you have any other questions?
Send them to: info@r-f-m.ch
DISCLAIMER:
This servey should not be understood as providing any type of diagnosis or healthcare recommendations. Self-administered screening tools surveys such as the Soul Injury Self-Awareness Tool Inventory are designed to enhance awareness of one's own experiences for the purpose of raising awareness of feelings and experiences related to possible Soul Injuries. Highlighting these experiences may offer you an opportunity to reflect on them at greater length, or to consider their relevance in a broader life context. If so, please seek the advice of counseling professionals (such as physicians, mental health counselors, clergy, social workers, et al.) who specialize in grief, loss, forgiveness, and self-compassion regarding the evaluation of any specific information, opinions, advice, or follow-up care.

This survey is headed by RFM Royal Foundation Management GmbH based in Switzerland. The survey materials are provided by the NPO Opus Peace (USA) which promotes the dissemination and offers education. This survey is supported by: Palliative Counseling LLC (USA).